Olympic Medallist and Director of Total Swimming Academies, Steve Parry nearly drowned as a child…
This is what prompted him to learn to swim and he went on to make a career of it, representing Great Britain in the Olympics, World Championships, European Championships and Common Wealth Games.
Recent shocking stats from Swim England have revealed a rise in drowning incidents in the UK last year, from 254 in 2020, to 277 in 2021 (that's almost a 10% increase).
He has repeatedly warned that more children than ever before are at risk of leaving primary school unable to swim, due to the record number of public pool closures over the last 18 months, leaving children unable to access lessons and facilities.
Current figures show that one in three children leave primary school unable to swim the statutory 25 metres, but Parry fears this number will be much higher due to the rising trend for school pool closures.
In order to help combat this urgently, This Drowning Prevention Week (now until 25th June) Steve has shared his essential life saving tips below to keep your child safe in the water:
NEVER JUMP INTO OPEN WATER
The hotter days are rolling in and when exploring the British countryside you may come across an incredibly appealing body of water that is tempting to cool down in – but even to experienced swimmers this can be perilous.
Ensure you are explaining to little ones that whilst paddling your feet in the shallows can be fun, wading out into open water can result in drowning. It is often impossible to spot currents under a calm surface and cold water can leave you in shock, unable to catch your breath and leave you in trouble.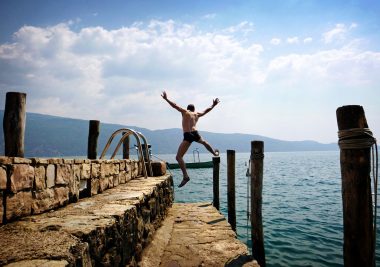 ENSURE LITTLE ONES ARE PREPARED
It is crucial children learn the life saving skill of swimming.
With 1 in 3 children now reported to be leaving primary school unable to swim, it is important that parents take action and ensure their children have been taught to swim properly by well trained teachers. Not only will this give your child a better chance of getting to safety if they fall into water, but swimming also fights obesity and who knows, it may spark a love of the sport and encourage them to pursue it all the way to the Olympics.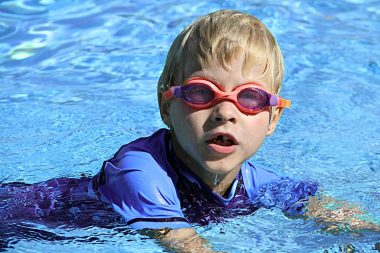 NEVER SWIM ALONE
An important lesson to teach kids is to never swim alone.
Even confident swimmers can find themselves in trouble in the water and it only takes a second for a leisurely swim to turn deadly, so ensure you are swimming with someone to call for help if the worst does happen.
LOOK FOR A LIFEGUARD
Ensure little ones know that unless they see a lifeguard present it is unsafe to swim. Let them know that it is never okay to distract a lifeguard and take their attention away from someone who may need it – it is however advisable that they (and you) have a chat with the lifeguard whilst they are off duty to make sure you know all the safety rules, regulations and tips of wherever you are swimming.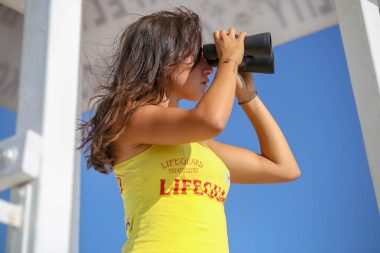 KNOW HOW TO HELP
It is essential that children know that if their swimming buddy is in trouble in the water, they shouldn't try and assist them whilst in the water themselves – this could cause the struggling person to clamber onto them leaving them both in trouble.
The first port of call should be to quickly get the attention of a lifeguard whilst they are getting out of the pool. Second should be to throw a floatation device near the struggling person and encourage them to grab hold. Third would be to source a long object such as a pool net, floatation noodle, or even a towel in order to pull the struggling person to safety from the side of the pool.
RECOGNISE THE SIGNS OF DROWNING
Drowning may not look like what you think it does, people rarely flail around when in trouble in the water like they do in the movies.
Instead look for heads tilted back, wide eyes and with their mouth open. You may spot they are not moving their legs and instead rapidly moving their arms to stay afloat. If you see anyone that looks panicked or in distress in the water shout for a lifeguard immediately.
Sporting house has also teamed up with Swim Safe, during drowning prevention week to deliver official certificates and free courses to selected schools, find out if your school is involved here.
For more information go to: www.swimming.org/swimengland/drowning-deaths-rise-respect-water-campaign