Heart of England Community Energy, a not for profit community energy co-operative which owns one of the largest community solar arrays in the UK is looking to raise over £1million through a community bond offer which will give local people another opportunity to get involved in the community enterprise.
They have already raised over £355,000 towards the target.
The community solar array, made up of over 55,000 solar panels at Drayton Manor Farm on the outskirts of Stratford-upon-Avon, was bought into community ownership in 2018. The community buy-back was funded by two community investment offers which raised £600,000 in community investment alongside £16.5 million of bank loans and social investment.
The company empowers local people and organisations by enabling them to invest in, control and benefit from local renewable energy generation. It is owned by its members, governed by local volunteer directors and run for the benefit of the local community.
They then recycle their profits back into the Heart of England area by supporting local charities and projects with a positive social and environmental impact. They also support initiatives to tackle climate change and poverty in developing countries.
John Stott, volunteer Director of Heart of England Community Energy said:
---
---
"Since commissioned, our solar array has generated 57 million kilowatt hours of electricity from the sun, provided £66,000 of funding to support local environmental and fuel poverty initiatives, and our community investors have been paid interest at 5 to 6% per year as offered in our 2017/18 share and bond offer documents. This latest community bond offer is the last piece in the jigsaw of securing the long-term funding for the solar array."

"As well as covering operating and finance costs, Heart of England Community Energy expect to generate £3.5 million over its 30-year operating life to support local community initiatives.




"It has taken years of work by the volunteer board and our advisors but the legacy for local communities makes it worthwhile. Our community solar array will generate green electricity for at least the next 20 years, and income to support our transition to a low carbon future."
In 2021 Heart of England Community Energy supported a number of local and international charities through grants from their community fund, namely: SolarAid, Act on Energy, Citizens Advice South Warwickshire and Harbury E-Wheels. To date HECE have provided SolarAid with grants totalling £7,500.
In June 2021 a grant of £2,500 was provided which was immediately utilised to continue SolarAid's work of recruiting, training and providing long term business support to 20 female solar entrepreneurs in Malawi and Zambia. This further resulted in 1,200 people reached with solar lights reducing 120 tonnes of carbon dioxide emissions due to reduced kerosene lamp use.
The community bond has a term of 15 years paying 4% gross interest annually, but interest payments and return of capital are not guaranteed.
To get involved or find out more see Heart of England Community Energy's website: www.hecommunityenergy.org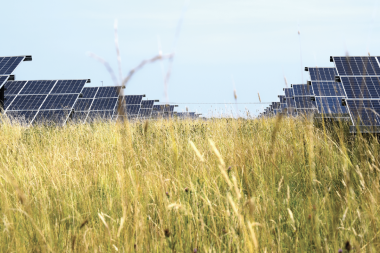 HECE's support to local charities totalling more than £57,800 to date has helped to fund charity administration costs, reduce fuel poverty and provide impartial and independent advice spanning multiple areas including housing, energy, money and legal services for members of the community in and around Warwickshire. Photo credit: HECE
​