The National Trust is calling on people to assist struggling dormice in a bid to boost numbers of the endangered species.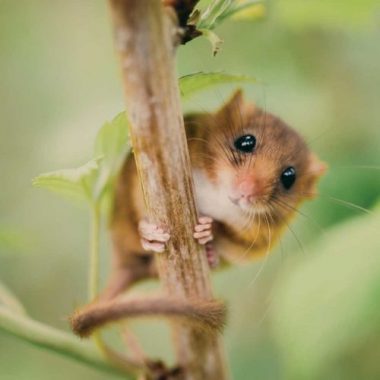 While dormice are typically found in rural areas, there are a few simple things people can do to encourage the elusive animals, particularly if they live near a wood.
Allowing bramble to grow, leaving ivy on trees and piling up logs can all help, according to the conservation charity, which is also asking people to report any sightings.
Hazel dormice populations in the UK have fallen by around a third since 2000 and are now extinct in 17 English counties.
Midlands Wildlife charity People's Trust for Endangered Species (PTES) in partnership with Warwickshire Wildlife Trust have been working hard to reintroduce dormice across the Midlands.
One  successful mission involved releasing 20 breeding pairs or trios of rare hazel dormice into an undisclosed woodland location just south of Coventry last year.
Ian White, Dormouse & Training Officer at Peoples Trust For Endangered Species explained: "Our annual reintroduction programme has been running since 1993. Since then over 900 dormice have been released into woodlands in 12 English counties where they once existed, in an effort to rebuild lost populations.
"This year's reintroduction is the second phase of a wider landscape project we started in Warwickshire last year, so we hope that by returning to the same county (albeit to a different woodland) that we can connect the two populations in the future, creating a larger, self-sustaining population which we hope will help bring this species back from the brink."
Each dormouse reintroduction requires a huge amount of planning, resources, and expertise. Captive-bred dormice are initially placed in pairs in soft-release cages for ten days, in the hope that they'll breed during this time. The specially designed cages have a small door which is opened on the tenth day so the dormice can explore their new woodland home, returning to the safety of the cage whenever they want.
Habitat loss is believed to be the main reason for the decline of these gorgeous little creatures, but increasingly warm winters are also having a negative effect, with dormice awaking from hibernation too early and hazel trees, their main habitat, showing signs of stress.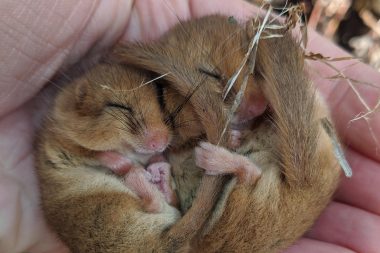 Rangers on the wooded Cotehele Estate in Cornwall found this sleepy pair during their monthly monitoring check of the local dormouse population, conducted each year from April to October.
George Holmes, Lead Ranger at the National Trust, said: "Finding a snoring dormouse inside a nesting box is an amazing feeling – they're such gentle and charismatic creatures.
"Sadly, they're so rare now that most people will never see one in their lifetime.
"We're working hard to improve numbers on the estate. Dormice are a key indicator species of the health of a woodland – so if the dormice are thriving, chances are other wildlife is too.
"Everyone can do their bit to encourage dormice and other wildlife, whether it's by letting the ivy grow on a tree in your garden or stacking up a pile of logs as shelter."
A special licence is required to handle these rare animals, which were found curled up in a semi-hibernating state inside one of 50 wooden nesting boxes installed by the Trust on the Cornish estate.
As well as counting the mice, rangers check their age, sex, weight and breathing condition, before submitting the information into a national database.
Dormice are arboreal, preferring to live high in the tree canopy and spending as little time as possible on the ground. On the Cotehele Estate, rangers manage the woodland by coppicing, ensuring the tops of the trees touch to allow dormice to move freely through the woodland without crossing fields and roads.
Dormice Officer, Ian White continued: "As dormice experts, we've already achieved so much. We've reintroduced almost 1000 dormice to twelve counties, eight of which they were completely extinct from. We've provided over 20,000 dormouse boxes to hundreds of sites across England and Wales.
"Our dormice monitoring programme, the NDMP, turned 30 this year. All this is only possible because of generous supporters like you, who share our passion for wildlife and trust us to do the upmost for dormice. Thank you."
Sightings of dormice should be reported via the People's Trust for Endangered Species website: https://surveydata.ptes.org/dormouse-database
A gift of £50 could contribute towards the £100 needed to buy a soft-release cage to help a pair of dormice settle into their new home. If you would like to contribute, please visit the PTES donation page and click here. 
---
Photo Credit: National Trust / George Holmes